Where are India's Children started as a digital campaign in July 2018. The campaign culminated on November 14th, Children's day, by asking all the campaign registrants to send messages to Women and Child Development authorities with the challenges and solutions plaguing the child protection mechanism.
After that, as a next step, the founding team decided to register WAIC as an NGO. Fun fact: The name Where are India's Children was rejected as it was mentioned that it is a question, not a name.
WAIC team comprises people passionate about child welfare who have a common vision that we as individuals and society must protect and ensure a future for every vulnerable child. The team is distributed pan-India and includes entrepreneurs, technologists, campaigners, counsellors, business heads, and strategists.
WAIC was registered in July 2019 as Child Welfare and Action Foundation.
Genesis
Our Core Values
EMPATHY– Empathy for ourselves, empathy for the government, empathy for the children, and empathy for the CCIs is an integral part of our work. We need to be able to understand where each of the stakeholders is operating from.
LEARNING – We do not stop learning. We go into every activity, every task, with a premise of learning something new. An attitude of "I know" is detrimental to us an individuals and as well as the organization.
ACCOUNTABILITY – We are accountable for our actions, and work. 
RESPECT – Respecting ourselves, the team, and all our stakeholders.
HUMILITY – Being humble is essential and necessary to our work. We are working in this sector because we want to bring about change.
INTEGRITY – Working with integrity is a major responsibility towards our organization and our stakeholders. At no point we compromise on this.
Our Supporters – Our motivation, our validators
 
Our Partners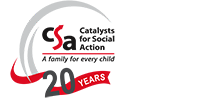 Our Board of Advisors
Sanjay Kanvinde –  is the co-founder of Lavni Ventures. Prior to founding Lavni Ventures, he worked in the Energy Industry, where over different international assignments, he worked in the functional areas of Research & Development, Knowledge Management, Business Development, and Corporate IT Management. Sanjay is also an Angel Investor and mentor to several technology and social-innovation startups. He is actively involved in several charities and social organizations. Sanjay will help drive the fundraising and technology focus for WAIC. 
Dr Premnath is Head NCL Innovations at CSIR-NCL and Founder Director Venture Center (a National award-winning non-profit inventive enterprises and deep tech incubator).  Dr Premnath is a technology developer, innovation and incubation manager, startup mentor and co-founder of 2 medtech startups.  He has provided leadership for teams that have won National awards for technology development, intellectual property management and business incubation. Dr Premnath has also helped initiate and coordinate activities for the NGO Asha for Education (funding basic education for underprivileged children in India) in Boston and Pune. He is a chemical engineer and an alumnus of MIT in the US, IIT-Bombay (Distinguished Alumnus, 2022) and has been a Chevening Technology Enterprise Scholar in Cambridge, UK.  
Mukund Rathi – Director BEQ N BN Management Solutions LLP. In his

previous experience, Mr. Rathi worked as the Deputy Commissioner of the Pune Municipal Corporation. He brings in a lot of experience with Government relationships and will focus on bringing that experience on board for WAIC.
Founding Team
Smriti, Protima, and Meera are the Founding team members of WAIC
              Smriti, Director
                        Protima, Director
                           Meera, CEO
Our Core Team
Our Volunteers – unconditional supporters
Contact Us
You can write to us at team@waic.in and follow us on Facebook, Twitter, Instagram, and LinkedIn.